How to join the Dutton Owners Club
The Dutton Owners Club is an international club and we welcome members from any country in the world. It's nice to know where Duttons have ended up, and hopefully we can help you keeping them on the road.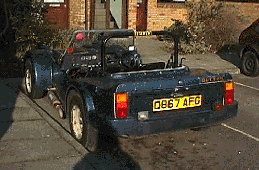 The Dutton Owners Club is registered under the Data Protection Act and all members' details provided on the application form will be stored on computer. These records will be used to produce membership lists for club members if requested. These details will not be passed on by the club, and must not be passed on to a third party, or used for marketing purposes. Some of the members details may be printed in the magazine - usually their name - for example as a caption to a photograph or article, or with advertisements or requests for information. The club magazine is sent to all members, car magazines (covering kit and classic cars), and, once out of date, spare copies may be sold/given away as a back issue.
The club will not give your details to any company for marketing purposes.
Membership details

The details required on the form are for club records and are used to help the committee or members. The registration and chassis numbers are useful as we are trying to compile a record of all Duttons produced, and get an idea of how many of each model and series were built. You do not have to fill in all the information if you do not wish to, but it is often helpful if you do. For example, if a member requires help in fitting a particular engine to a particular model, then they may be sent a list of all members owning similarly engined vehicles. Also, these lists are used at shows to judge the club's concours events, however, if we don't have your registration number, you can't win! We are also helping the police and DVLA/VOSA to stop vehicle identity theft. There have been many cases recently of vehicles being bought with the sole intention of avoiding the VOSA test for newly built specialist vehicles, better known as the IVA test. Normally this involves the transfer of the chassis plate/number plates to a newly built kit car and the scrapping of one Dutton. This practice is illegal under british and european law. By giving us the chassis number, model and registration of the vehicle along with a photo or two we can help protect the integrity of the marque and actively discourage the practice of vehicle identity theft.
As membership details are sorted into county order - to make searching for nearby members easier - it is important to include this information when filling in the form. Please also remember to include the STD code when filling in your telephone number. This information will not be made available to non members. If you have access to email please include that too. We will be using e-mail shots to post lists of club events, local group events and items that may be of interest to Dutton owners.
Family membership

To enable the whole family to become involved in DOC events, each membership fee paid gives the person applying for membership the option of enrolling - without charge - up to two additional 'family members living at the same address. All members and family members have full rights within the club and each member receives their own membership card, however, only one item per mailing will be sent to each family.
Cost

Presently the cost of membership is £12 (for UK members) or £20 (for non UK members) per year. We can accept payment via the following methods.
PayPal (preferred method) Using the electronic registration form and paying via paypal is the simplest and fastest method. Ideal for our overseas members who need to convert from another currency. This can also be used for renewals, please make sure to include your membership number if you have one. Paypal payments are currently being processed manually so please follow the instructions on the screen when you arrive at that stage in the process.
Cheque/Postal Order instructions are on the printed forms for payments.
Renewal time is upon us and reminders will be sent out shortly. There will be some changes this year as we are going to send electronic renewals to all members with valid email addresses with links to all the Dutton related forums, our paypal payment page and the various committee email addresses.
This may take a few weeks to process as we currently have approximately 340 members all in. Some of these require 3 membership cards to be hand written ... I'm going to need more pens.
Application Form

You can either print this out as an Adobe Acrobat form (pdf file), an MS word .doc form or complete it online and send by email. Please ensure printed copies are completed before posting.
Adobe Acrobat pdf Form (postal) Other Application Form (postal)
Electronic Payment and E-form (opens new tab or window)
Please print the form out, and send together with payment to the Membership Secretary (address on form). Your membership pack (including a windscreen sticker and copy of the latest club magazine) will be sent to you shortly, however, please bear in mind that the DOC is run by members in their spare time, so please be a little patient! Any queries regarding memberships or the information held by the club should be addressed to the membership secretary.